BTEC Level 2 Art & Design
All students will follow the Edexcel Level 2 First Award in Art & Design. They will begin the course in Year 9 and will complete the first unit by the end of the year. Students will then study a further 3 units during years 10 and 11.
The course is designed to provide Level 2 learners with:
An understanding of how organisations in the art and design industry operate.
The key skills required to work in the industry.
Key concepts and principles related to the world of art and design.
Edexcel Level 2
The course is equivalent to a GCSE qualification where students will be given the opportunity to develop a range of skills and techniques, personal skills and attributes essential for successful performance in working life.
Learners will be introduced to the following disciplines:
Design Crafts
Visual Arts
Visual Communication
Product Design
The above specialist areas will be studied briefly in the first unit prior to a more in depth learning on the specific pathways in subsequent units.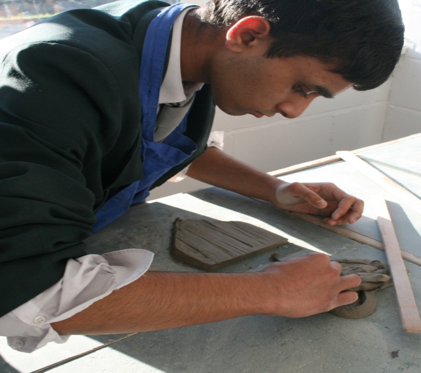 Course Content
Unit 1: Introduction to Specialist Pathways in Art and Design
Unit 2: Creative Project in Art and Design
Unit 3: Communicating Ideas in 2D
Unit 5: Developing an Art and Design portfolio.
Assessment
Units 1, 3 and 5 are coursework based assessments which are externally moderated after completion. Unit 2 is completed as a 10 hour internal examination.
Progression
The course aims to give learners the opportunity to progress to higher qualifications such as the Edexcel BTEC Level 3 Nationals or A-levels in Art and Design. These qualifications will fully support university applications.