Uniform
Here at Joseph Leckie Academy, our students wear their uniform with pride.
The Academy uniform is available from Clive Mark School Wear in Walsall, CC Uniforms of West Bromwich (click here for pricing) and Crested Schoolwear of Walsall. Many items of uniform, such as shirts, skirts, tights, trousers and shoes, can be easily sourced from other suppliers, such as supermarkets.
The Academy Badge, Tie and Grey Hijab (for years 7 - 11) are only available for purchase from the Academy.
The uniform items listed below are compulsory, unless otherwise stated. Students are expected to wear this uniform during all seasons.
The Principal and Leadership Team reserve the right to determine whether the uniform and hairstyle of the student meets the Academy standards.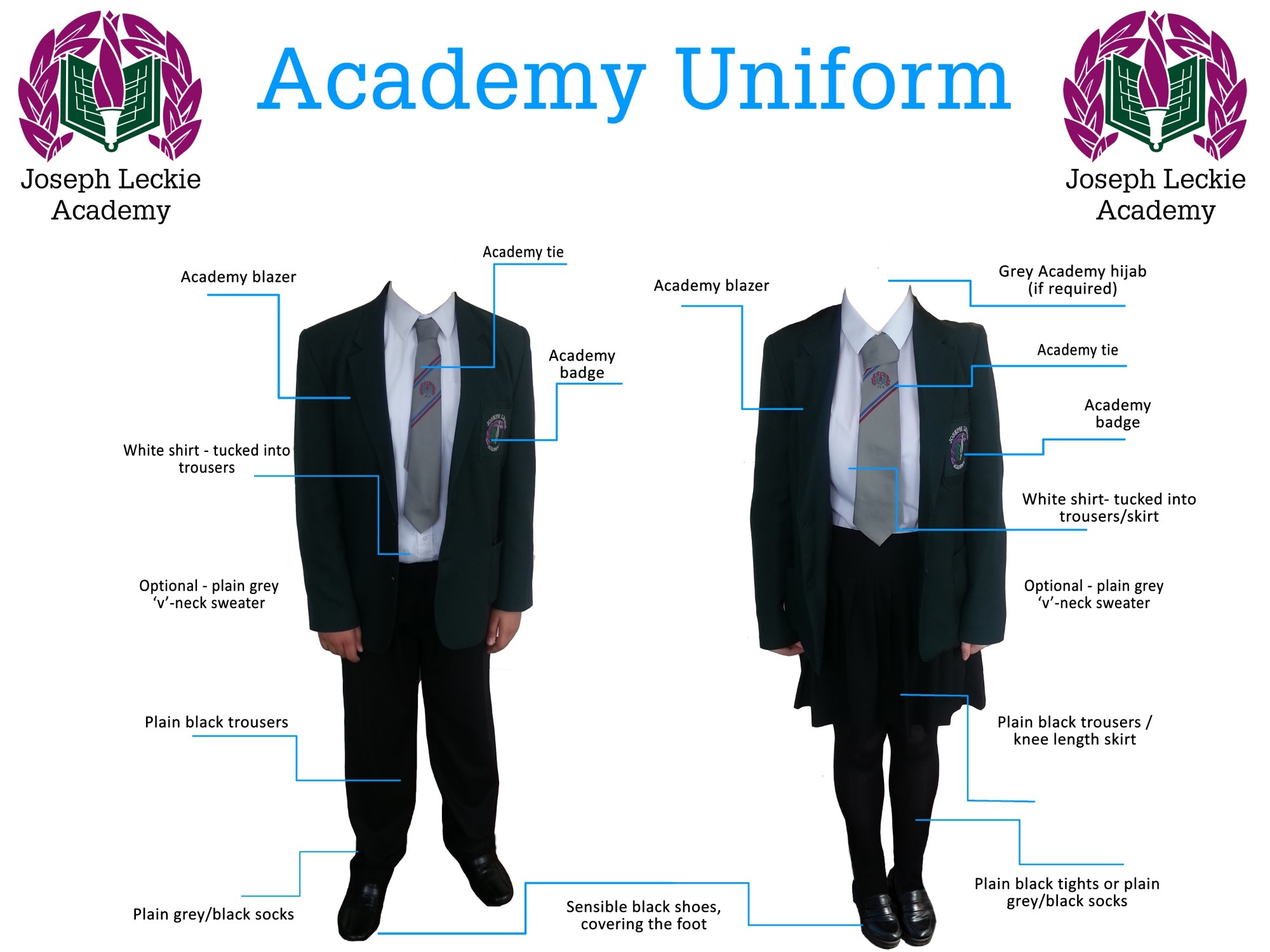 Boys and Girls
Bottle Green Blazer
Academy Badge for the Blazer*
Academy Tie with House Colours*
White Shirt with Collar
Black trousers or black skirt
Sturdy Black Shoes, that covers the foot. They may have a low-heel.
Trainers are not acceptable.
Plain Grey V Neck Sweater (optional)
Grey Hijab for Years 7-11*
Academy Lanyard & ID Badge**
*These items are only available to purchase from Joseph Leckie Academy.
**From September 2020 all students are now provided with a
coloured lanyard to identify their year group and an ID Badge. These must be worn by students at all times on site. (An example is show below)

P.E. Kit Information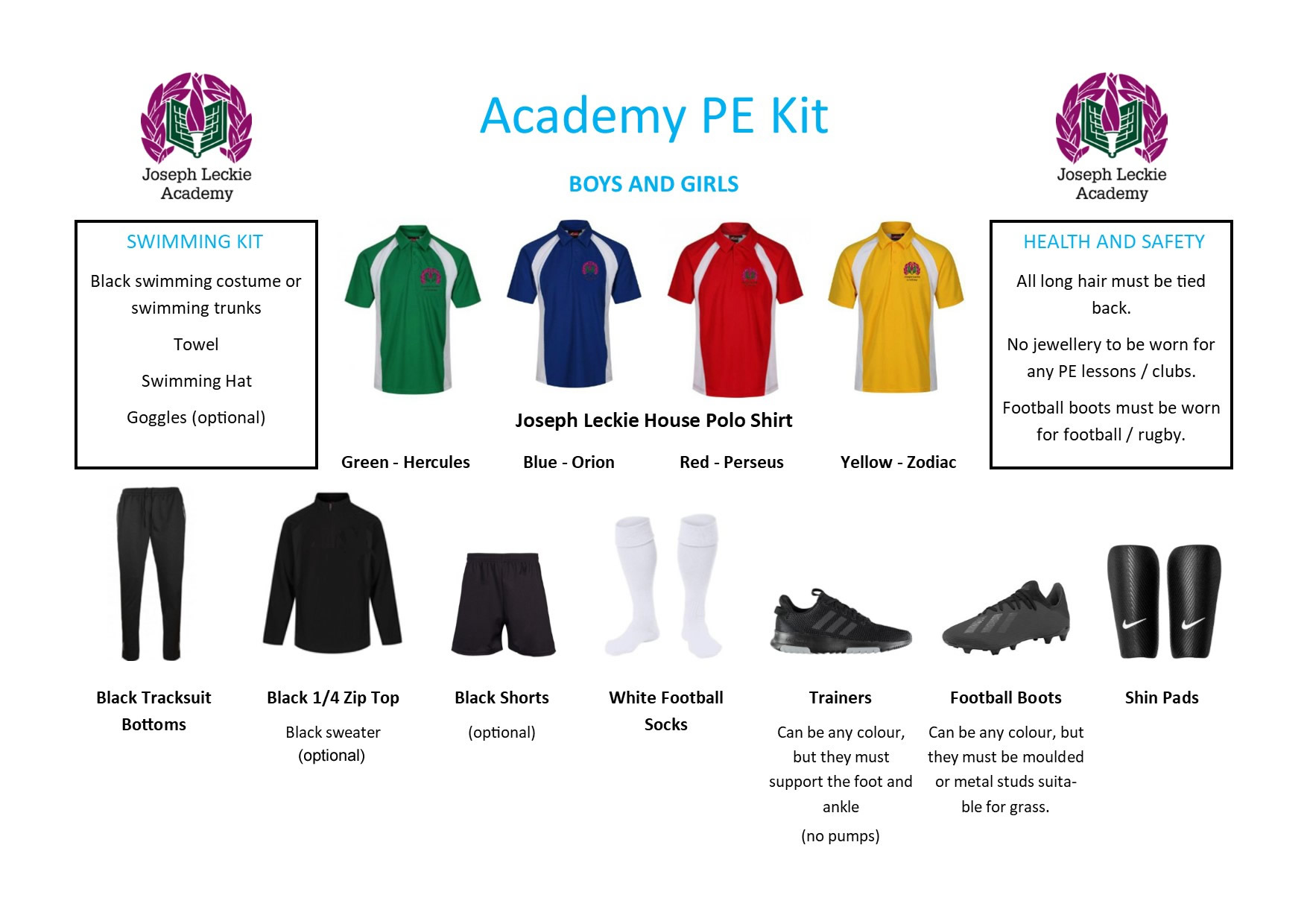 Boys and Girls
House Colour Polo Shirt with embroidered logo
(Further information on which colour polo shirt to purchase will be made available by the Academy)
Plain Black Track Trousers
Plain White Knee Length Football Socks
Football Boots & Shin Pads
Pumps or Training Shoes
Dark Swimming Trunks or Dark Swimming Costume
Maroon Rugby Shirt (Boys)
Optional Items:
Plain Black Sweatshirt or 1/4 Zip Top
Plain Black Shorts
Swimming Goggles
Please make sure that your child's name is on all items of kit (including training shoes) as soon as possible.
Examples of Acceptable and Unacceptable Uniform
Personal Appearance and Uniform Policy
"We wish to ensure a consistency of expectation about how uniform is worn by our students. At all times, students should dress in a way that is smart and professional. This is to ensure that the Academy uniform is worn correctly by all students and that it is worn with pride."
Make up: discreet make up only may be worn. Nails must be kept short for health and safety reasons. Acrylic nails are not permitted. False eyelashes should not be worn at any time.
Hair: the Academy does not permit extreme hairstyles / patterns in hair. Excessively bright or unusual colours are not allowed. Students should not shave "slits" into eyebrows or have tramlines shaved in hair *
Shoes: should be "sensible" for all aspects of the Academy day and site, should be black, generally plain and protect the foot. Shoes should be low heeled and free from large motifs / designs / buckles etc. For snowfall, waterproof or leather boots may be worn. Plain black boots may be worn under trousers if the trouser covers the boot. Boots may not be worn with skirts.
Coats & hats: sports tops, denim, leather / leather look jackets, hooded tops, fashion jackets, sweatshirts, baseball caps, flat-caps, durags are not allowed. Such items will be confiscated and handed to Head of Year. A warm outdoor / warm coat (not hoodies or sportswear) may be worn over the blazer but not in place of the blazer. A small logo / brand / badge is allowed. Large brand names / logos should be avoided.
Jewellery: we do not encourage students to wear jewellery to the Academy as there is potential for expensive items to be lost. Students are permitted one simple ring per hand, one plain / discreet bracelet per wrist and one stud (only) in each ear lobe. A small single stud may be worn in the nose. Other earring types are not permitted as they constitute a health and safety risk in a busy school environment. No facial piercings are allowed. A plaster needs to be worn for 10 school days immediately following a piercing only. A retainer must be worn after this period. Banned items will be confiscated and handed to Head of Year. The Academy does not permit any items in school that carry political messages, slogans or ideology. Chains must be under collar.
Trousers and skirts: must be black fabric and ideally, hard-wearing. Leather, denim, jeggings, leggings, combats are not allowed. Trousers with studs, zips, logos or those that are clingy / stretchy are not permitted. Black socks should be worn with trousers. Skirts must provide ease of movement and not be see-through. No pop socks or knee length socks may be worn with skirts. Leggings should not be worn with skirts.
Ties: must be clean and not defaced in any way. They must be tied with the appropriate emblem showing. Ties that have been defaced will be removed and a new tie will need to be purchased from reception.
Blazers: must be worn at all times, unless permission is given by class teacher to remove. The Principal will inform students when blazers may be removed. No outer top worn in place of blazer, or blazer around waist.
Shirts: should be tucked in and top button closed with tie covering. Lanyards worn around neck outside shirt.
Length of key items: trousers must be full length and long enough to meet the student's socks without leaving a gap. Ties should be full length so that they end just above the student's waistline. Skirts should be long enough to reach at least just above the student's knee, as a minimum length. Shirts should be long enough so that they can be comfortably tucked in around the waist at all times.
Phones: should be turned off / silent and be out of sight at all times on Academy site. Phones / earphones will be confiscated if seen between 8.30am & 2.50pm and will incur a 60 minute detention. After school use is prohibited on site and detentions will be issued for non-compliance / repeat issues when asked to put away.
Please note that failure to follow the Academy uniform policy may result in parent / carer support to rectify the issue. Please ensure that all items of clothing are labelled with your child's name. Expensive items should not be brought into the Academy and should remain at home. This is not an exhaustive list, due to the speed and change of trends / fashions. Further categories / sanctions may be applied at the Principal's discretion.
Sixth Form students are required to wear smart professional business clothing. For more information please see our
Sixth Form Dress Code.