Mental Health Awareness Week 22nd May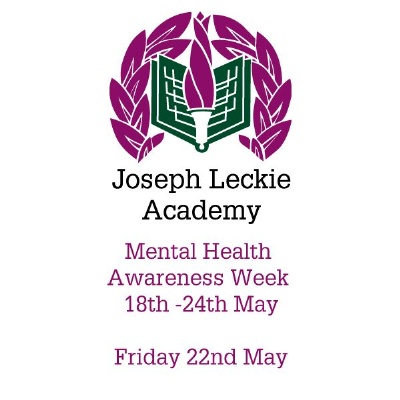 Mental well- being describes how you are feeling and how well you can cope with day to day life. Stress, loneliness, inactivity, lack of sleep can affect our mental wellbeing.
We know this is a difficult time for many of you, with the spread of coronavirus impacting our lives in various ways. We know that talking about mental health can feel awkward, but it doesn't have to.
What can you do for Mental Health Awareness Week 18th -24th May?
It is all about being kind to yourself by taking some time out each day for yourself.
Please look for further information and advice throughout the week across the Academy's social media platforms and website.
Mental Health Awareness Week -Friday 22nd May 2020
Learning doesn't only happen in the classroom. We learn some of the most important life skills at home and from other experiences.
In order to be happy, successful and fulfil their personal potential, young people need confidence, resilience, communication and self-awareness.
The activities below will support young people to develop these key skills, improving their overall wellbeing.
The series of activity sheets are designed to take between 20-50 minutes
Activities Getting to know yourself
This 15 minute activity will help a young person to develop their self-awareness. You can do this together or independently.
Over the last nine weeks, the things we can't do have been well publicised – but the things we must do to protect our mental health are vital for coping during this time.
Whilst we may not be able to see friends and family, utilise the technology available to you to stay connected or just a good old fashioned telephone call.
Ensure that you take your daily allotted exercise outside each day – this has perhaps been easier this week as the weather has been glorious – but it's vital to continue it even when the clouds hover.
Try and eat a balanced diet – we know that certain types of food sell out quickly and might be hard to get hold of – but try and make the best of what you have.
Be honest about how you're feeling. When something colossal is happening in the world, it can be easier to ignore our own feelings or dismiss them as being 'unimportant' – but that could not be further from the truth. Sharing how you feel; both positive and negative can help us all to process our current reality.
Try and implement a loose structure to your day – it's isn't necessary to timetable every activity, but perhaps having a key activity each day or setting a time to get outside.
Allow yourself to have a good cry if you need to, it's a lot to take in, and crying releases oxytocin and endorphins which can make life feel more bearable.
Don't be afraid to use national services like the Samaritans, Child Line, Kooth.com
Now more than ever, small acts of kindness can go a long way in helping everyone cope with our current reality.
Research shows that kindness can reduce levels of stress and anxiety, can increase happiness and self-esteem and in only one week, counting your own acts of kindness can improve your general happiness.
Therefore, for Mental Health Awareness Week (18th – 24th May 2020) we want you to join us in with Kindness Challenges! We've come up with small tasks that you can carry out by yourself from home to show kindness to others and yourself.
Here's how you can take part:
Save the kindness tag to your mobile or profile picture

Share it on social media alongside pictures of you completing the tasks to show others how they can spread kindness too!
Tag Mental Health UK using @mhealthuk on Instagram and Facebook or @mentalhealthuk on Twitter and LinkedIn.
Nominate your friends to take part in the Kindness Challenge by tagging them too!
Use #KindnessChallenge and #MentalHealthAwarenessWeek.