Partial Closure - 19th March 2020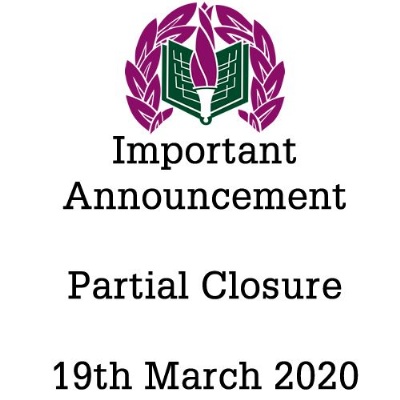 The Academy is closed tomorrow (19th March 2020) to students in Year 9 and Year 12 only. Students in Years 7,8,10,11,13 are still expected to attend as usual.
In light of staffing pressures at this unprecedented time, we are adopting a revised structure for the attendance of certain year groups, which will be fluid and change in response to available staffing.
This process is essential to offer the high quality curriculum we wish to maintain for as many students as possible.
The following year groups need to attend the Academy at normal time on the following days:
Thursday 19th March: Years 7, 8, 10,11 & 13 only
Friday 20th March: TBC
Please ensure that your child has their Sharepoint log in details and password at hand, so that they may access work materials at home - if they are one of the year groups asked to stay home on any of the days above. Details and help with this are available on the link below.
Further updates on a daily basis will be published on all official Academy communication channels.
(Website/Official Social Media Channels/Text Messages from the Academy)
Please do keep checking back for further updates as we may change which year groups are not required to attend on a daily basis.
Students who are not on site should continue to study at home, using resources provided. Further resources for students who are studying at home will be provided soon. Students are asked to check Sharepoint & Ruler Classroom for more information on assigned work currently.
Please continue to also monitor our published content based upon Government advice on Covid-19 (Coronavirus). Click here to go to the article.