Free Football Sessions at Walsall FC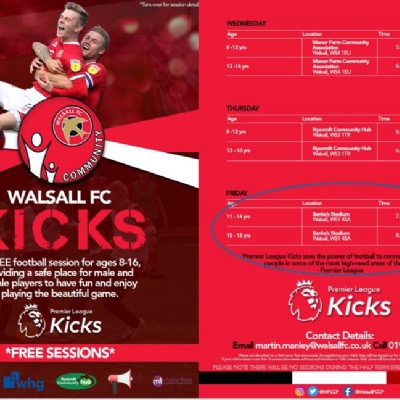 Joseph Leckie Academy is working collaboratively with Walsall FCCP, to provide students the opportunity to attend 'Walsall Kicks'. 'Walsall Kicks' is a Free football session taking place at Walsall FC every Friday after the Autumn half term.
The aim of the initiative is to:
Increase playing, coaching and officiating opportunities in football and a range of sports (8-18 yrs)
Enhance physical and mental wellbeing, including self-esteem, ambition and social skills
Strengthen communities with a culture of volunteering, social action and positive role models – supporting education, training and employment pathways (focusing on 16-25 yrs)
Work in partnership with young people, the police and other stakeholders to support the younger generation with the societal challenges they face (eg youth violence) and to improve community safety
Inspire young people to develop positive, supportive relationships with one another and the authorities
If students/parents would like to find out more about this community event, there will be a Launch event Friday 1st November at Walsall FC at 3.30pm (Half Term holiday), which they can attend.
With our Partnership with Walsall FCCP #PL Kicks offers young people access to free football and sports sessions, as well as workshops - supporting education, training and employment pathways. To get involved with Kicks or for more information please email martin.manley@walsallfc.co.uk