COVID-19 (Coronavirus) Information
This page contains links to all other pages on our site in relation to our closure due to COVID-19 (Coronavirus). Also available below is links to other external resources for help.
This page is frequently being updated, please check regularly.
---
JLA Information:
Student Learning/Offsite Working
During this closure, information is available on our Student Learning Plans page to guide students to where they will find work to complete and also provide links to guides and service.
Click here to go to the Student Learning Plan Page
Key Worker Information
As per the government advice we will provide a provision for any children who has a parent who is deemed as a key worker. For more information on this please visit our Parental Occupation Survey, which also provides a form for how to get in touch regarding this.
Free School Meals - During Closure
If your child is eligible for Free School Meals, and you wish to request your entitlement please visit our Free School Meals page for more information.
Click here to visit the Free School Meals Page
Exams Information
For details on announcements on changes to Exams for this summer, please visit our Exams page.
Whilst coronavirus is infectious to children it is rarely serious. If your child is unwell it is likely to be a non-coronavirus illness, rather than coronavirus itself.
Whilst it is extremely important to follow Government advice to stay at home during this period, it can be confusing to know what to do when your child is unwell or injured. Remember that NHS 111, GPs and hospitals are still providing the same safe care that they have always done. Straightforward advice for parents can be found here.
Translated NHS Guidance
Doctors of the World in collaboration with the Red Cross have translated NHS guidance regarding COVID-19 into 44 languages including Arabic, Bengali, Farsi, Gujarati, Hausa, Hindi and Polish.
Translated Guidance - Doctors of the World
DfE Online educational resources to support children to continue learning at home
The DfE have published a list of online resources that parents, and schools can consider to support children to continue learning at home. The list will be updated over time, and includes a wide range of resources for all ages that schools can consider using as part of their planned curriculum. Schools have already been drawing on existing resources and tools they are familiar with to support children to continue learning at home and should continue to do so.
More information can be found here:
Updated handwashing advice
It is essential that everyone washes their hands more often, using soap and water for at least 20 seconds. Hand washing with soap employs mechanical action that loosens bacteria and viruses from the skin, rinsing them into the drain. Drying hands afterwards makes the skin less hospitable to the virus. Hand sanitiser can be effective if soap is not available or the situation makes using soap less feasible (i.e. when outside) but using hand sanitiser provides none of the virus-destroying friction that rubbing your hands together and rinsing with water provides.
The latest guidance and video on hand washing can be found at:
The e-Bug project is led by Public Health England and has a dedicated webpage for learning resources on hand washing and respiratory hygiene.
Resources are currently available for KS1, KS2 and KS3 and can be used in various settings including schools and at home:
Click here for the e-Bug Project website
Please regularly check the government/local advice pages.
Walsall Council - Coronavirus Advice
Citizens advice - Support with living costs
There is support available to keep your child safe online. Below are some useful links to help parents and carers:
The full guidance can be accessed via the link.
Children's Guide to Coronavirus – Children's Commissioner
The Children's Commissioner has developed a children's guide to Coronavirus which supports children and young people in understanding what it is, how they can protect themselves and their families, how to deal with worries and hints and resources to pass the time whilst in lockdown. The Children's Commissioner says "All these changes might make you feel scared or worried. That's OK. It's totally normal to feel like this". The Children's Guide can be accessed via the link below.
Coronavirus: online safety
Source: The Children's Commissioner for England
Date: 09 April 2020

The Children's Commissioner for England, in association with the privacy law firm Schillings, has produced a digital safety and wellbeing kit for parents and a safety guide for children to help keep children safe and well online during the coronavirus outbreak.

Read the news story: Digital safety and wellbeing kit
Download the kit: Parents' digital safety and wellbeing kit (PDF)
Download the guide: Children's guide to staying safe online (PDF)
NHS HandWashing Guidance.
Social isolation, reduced exercise, and bereavement, may affect children's wellbeing in this period.
Resources to promote and support children and young people's mental wellbeing include:
All NHS mental health trusts are setting up 24/7 helplines, and seeking to use digital and virtual channels, to continue delivering support during the coronavirus (COVID-19) outbreak.
Public Health England
Public Health England have also produced an easy read guide to looking after yourself during the pandemic. This can be accessed via the link below.
Public Health England - Personal guide
Educational Guidance Poster.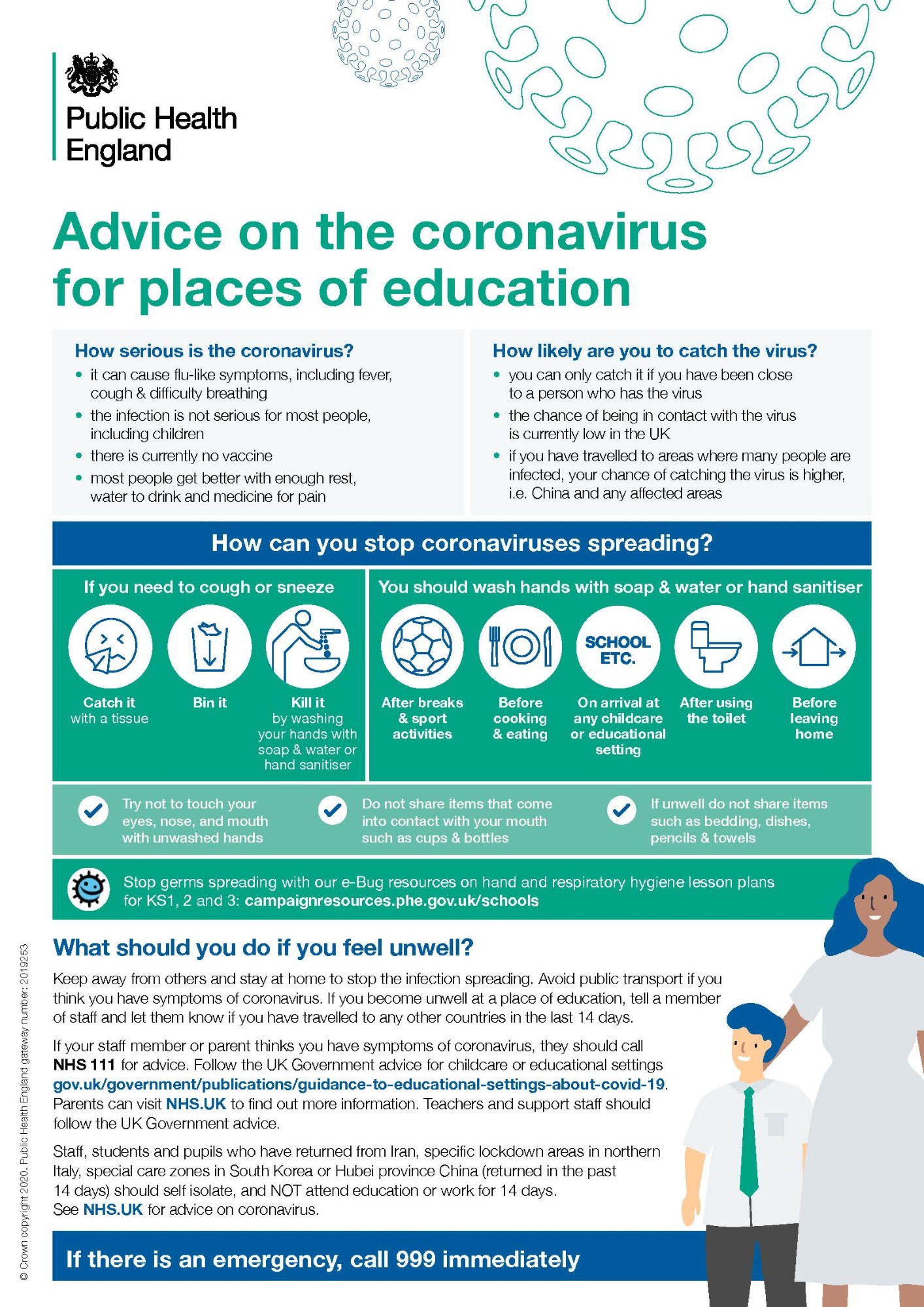 Click on image to Enlarge
Animation & Story Book Explaining the Coronavirus to Children (INEQUE)

The virus has brought monumental change to how we teach and care for children and young people. The virus presents a particular challenge for a lot of younger children as they adapt to new social distancing measures and forms of learning.

To support different forms of learning, Jim Gamble's team at Inqeue have prepared a short animation, a story book and an activity to support teachers and parents tackle misinformation and help children understand Coronavirus.

Further information:
https://ineqe.com/2020/03/20/animation-story-book-explains-the-coronavirus-to-children/