Music - Peforming Arts
Students choosing music as an option will follow the Eduqas specification, which is assessed through a combination of coursework and an externally assessed creative unit. The course develops performing and creating skills, using Logic Pro as a creative tool.
The course supports key life skills including project management, self-motivation, organisation and independent learning.
Eduqas Level 2
This course is a Level 2 qualification, and will help to develop general musicianship as well as introducing industry level music software.
The course is designed to prepare students with skills that are valued in further education and employment, such as independent working and analysis, and will support other areas of the curriculum.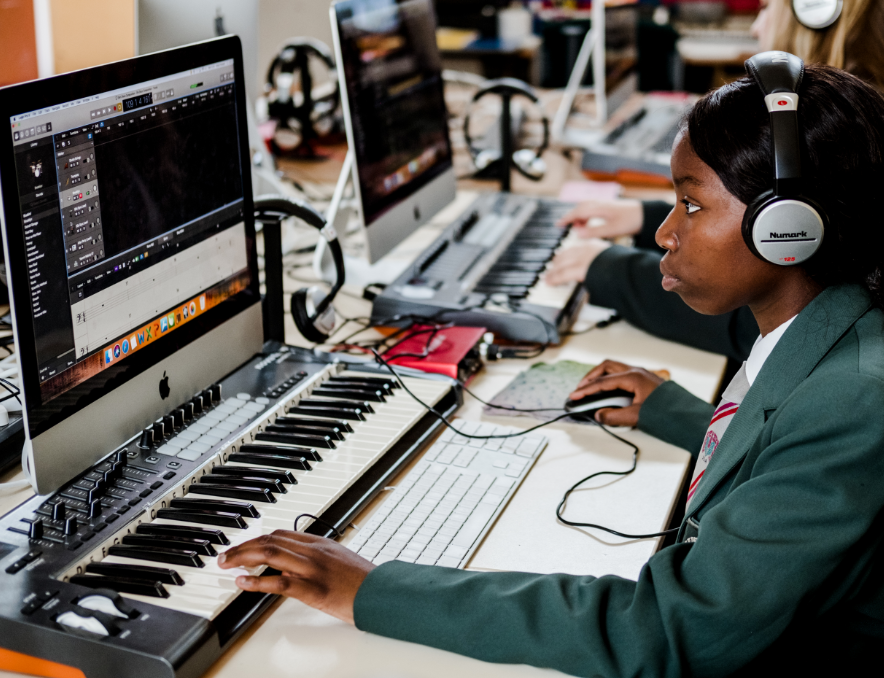 Course Content
Unit ONE – Performance (Internally Assessed)
Unit TWO – Creating(Internally Assessed)
Unit THREE – Performing Arts in Practice (Externally Assessed
Assessment
Performance – Students produce a cover version of a piece of music on their chosen instrument/voice
Creating – Students create an original piece of music, using Logic Pro
Performing Arts in Practice -Students create and plan a live event
Skills Needed for this course:
Students will need to enjoy performing to a live audience. Weekly instrumental or vocal lessons are provided in school to help with this.
They will also need to have an interest in discovering their own musical identity, creating their own original music pieces.
Progression
The course prepares students for further study in music and music technology qualifications, such as A Level Music Technology, the BTEC Level 3 in music, or the RSL Level 3 Vocational courses. All of these courses which will support university entrance.
It also prepares students for progression to employment or apprenticeship within the music industry, for example roles as stage crew, working within music venues, music agencies and promotion, and music retail and sales.